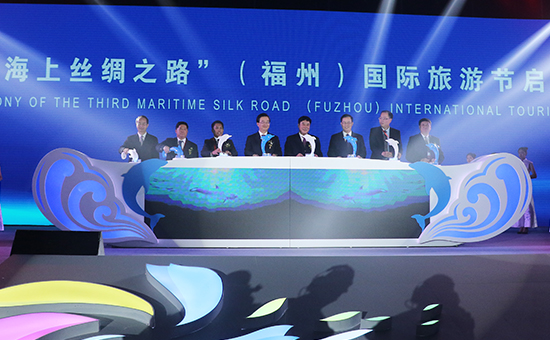 The Third Maritime Silk Road (Fuzhou) International Tourism Festival was held on 19th November in Fuzhou City, lasting to 31st December. Opening Ceremony of the festival cum Inauguration of Fuzhou Branch of Data Center of China National Tourism Administration marked the participants from China National Tourism Administration, Fujian Provincial Commission of Tourism Development, Fujian provincial government, Fuzhou municipal government, Singapore Consulate, Tailand Consulate and Philippine Consulate. Mr. Wei Hongtai, the deputy director of the administration, addressed the ceremony.
Agreement of Strategy Cooperation for Fuzhou Tourism Development was signed in the festival by 10 Chinese tourism agents and 10 foreign tourism agents from USA, Egypt, New Zealand, Jordan and Russia; Myanmar founded its tourism office to propel tourism exchange with Fujian.
The festival covers assorted events: International Tourism Summit, the 8th Fuzhou Hotspring International Tourism Festival, the 2nd Fuzhou Folkway Tourism Festival, 2017 International Tourism Photography Show, the 3rd "Maritime Silk Road" Tour Guider Invitational, Mascot of the Festival Releasing, "Blue Dolphin" Tourism Discount, and "Meeting Fuzhou" Micro-film Contest.