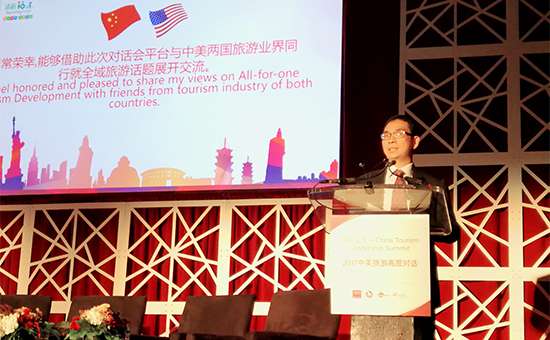 On September 21 (ET), the 2017 China-U.S. Tourism Leadership Summit was convened in Atlanta, the capital of the State of Georgia, the United States. The opening ceremony gathered speakers including CNTA chairman Li Jinzao, Chinese consul-general in Huston Li Qiangmin, President and CEO of Brand USA Christopher Thompson, Executive Director Isabel Hill of the National Travel and Tourism office of the U.S. Department of Commerce, Georgia governor Nathan Deal, and Atlanta mayor Kasim Reed, as well as a 200-plus audience including representatives of Chinese and U.S. tourism authorities and business insiders.
In the submit, Mr. Wu Xiande, the director of Fujian Provincial Commission of Tourism Development, gave a theme speech. He profiled the shaping and developing of all-for-one tourism theory in China and argued that it was a profound change to Chinese tourism and was boosting the industry. Focusing on the practice of all-for-one tourism in Fujian, he introduce the conception of "Provincial region is tourism zone", in which Fujian propelled the tourism greatly by 4 Ts --Tea, Trees, Treasure and Trend. The audiences agreed with him by active responses and his speech heightened audiences' awareness of "Refreshing Fujian". He hoped that by the submit new cooperation on tourism between Fujian and USA could be launched and welcomed audiences to Fujian.
Fujian is the major destination of tourists from USA. Last year the USA tourists to Fujian was 304 thousand, 6.5% more than that in 2015, ranking 3rd of foreign tourists, while USA is the major destination of tourists from Fujian.