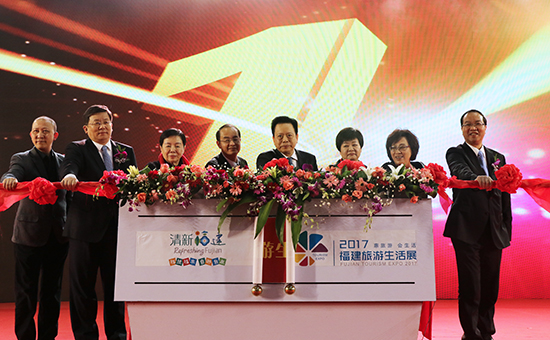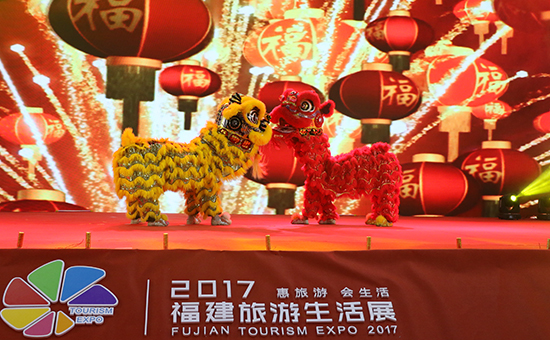 Fujian International Tourism Expo 2017 was held grandly on 22nd December in Fujian Straits International Exhibition Hall. Its exhibition area covers 20000 square meters and its pavilions are more than 1000. The events was covered by media websites and newspaper. It covered 3 themes-- " buy at favorite price, tour in attractive destination, living in Fujian".
The Expo marked the participants from tourism-related organizations:officials from Fujian Provincial Commission of Tourism Development, Chinese Travel Agent Association, 17 Municipal Commissions of Tourism Development, managers from banks, travel agents and airline, managers from Fujian Tourism and Development Group, tourism suppliers and buyers from China, USA, German, Japan, Korea, Philippine and Monaco, representatives from tourism websites and art performers.
Mr. Su Qingci, the Deputy Director of Fujian Provincial Commission of Tourism Development, addressed the Expo by introducing Fujian tourism which had been positioned as an emerging sector. In 2018, the Commission will go on highlighting "Refreshing Fujian" and improve overall tourism facilities. The Expo spotlighted tourist attractions, resorts and tour routes, building a platform for tourism and its marketing.
Together, distinguished guests starts the Expo; Tourism plus Internet is a key event in the Expo; 2017 "Refreshing Fujian " Intelligent Tourism Award was held on site. The Expo was elaborate to build a effective and win-win platform for exchange, trade and cooperation.
At the event, "Forum on Sharing Economy and Tourism Development" was held, centering on "the sharing and developing of good ecological environment"; Matchmaking of tourism products was held; Choice tour routes were shared.
Additionally, visitors of the Expo could get tourism souvenir of tourism; lottery and gift delivery attracted visitors.