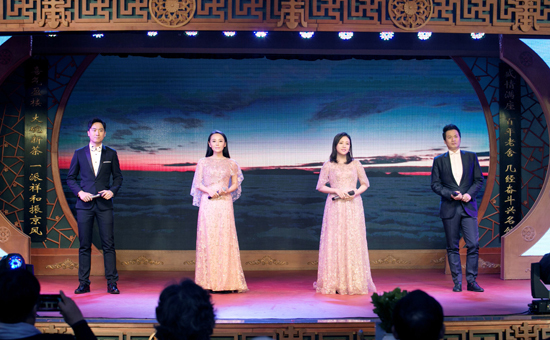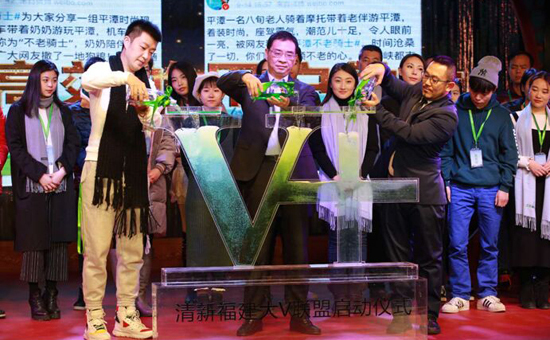 Big V League Promoted "Refreshing Fujian"
Created on 15th December in Beijing, Big V League for "Refreshing Fujian" was a new team to promote "Refreshing Fujian". Big V is verified Weibo users who have more than 500,000 followers, and Weibo is the top social media in China that boasts large quantity of users and great clout. The league had 30 Big Vs, each of who boasts 500 million more followers, most of them being tour enthusiasts.
Launching Ceremony of the League marked Mr. Wu Xiande, the Director of Fujian Provincial Commission of Tourism Development, 30 Big Vs, officials from Beijing Municipal Commission of Tourism Development, and media reporters. As Mr. Wu and 2 representatives of Big Vs poured Champagne into shining V+ shape tube, the league was set up officially.
Addressing the Ceremony, Mr. Wu profiled Fujian's tourism: 4 sites of the World Heritages, 2 World Geoparks and 9 charms peculiar to Fujian. The 4 sites were Wuyi Mountain, Tulou, Danxia Landform in Taining and Gulangyu Island in Xiamen; the 2 Geoparks were respectively located in Ningde and Tai'ning; the 9 charms were place of tea origin, Tulou miracle, sound natural environment, hot spring culture, oceanic culture, pilgrimage to gods, Maritime Silk Road Linkage, original culture shared with Taiwan and diverse cultures in Fujian. Tourism was positioned as an emerging mainstay. Fujian received 347 million visits and income of RMB 459.955 billion up to last November, respectively increasing 21.9% and 29.8% of last year and ranking 6th of tour destinations in China. In 2018 Fujina is about to improve tourism facilities and service. The league for promoting "Refreshing Fujian" was innovative by Big Vs disseminating Fujian tourism.
The representatives of Big Vs shared their experience of touring Fujian and told the story of Fujian. Cross talk was performed to heighten people's awareness of Fujian. The song "Fujian Are You" climaxed the event.
Ten live-broadcasting websites lived the Ceremony and Big Vs talked online with their followers who watch the live Ceremony. Total 1.05 million audiences watched the Ceremony online and 100 more media covered it.