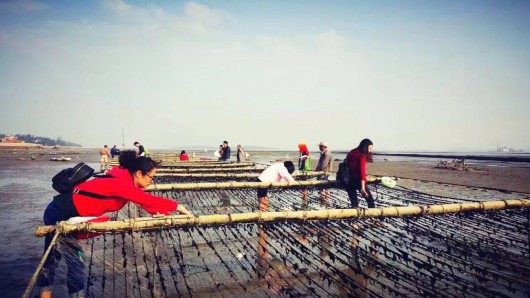 On the 10th December, the 2016 Xia'an Sea Island Tourist Fest kicked off in Leisure Fishman Village, Xiaodeng Island. The fest goes with Laver Party, Gourmet Grouper Party, Content of Photography on Island landscape and Experience Party in Dadeng Island.
Laver Party: the inhabitants of the island live on growing laver. The island is free from pollution as there is no industry. Its laver, free from sand, is choice. The organizers of the party publicized the common sense of laver and held the activities: cutting laver in sea and drying laver. In the village, local chef cooked assorted dishes with laver and visitors enjoy the feast of laver.
Gourmet Grouper Party: Xiaodeng Island boasts picturesque landscape and quality seawater. The local grouper is delicious and nutritious. Visitors may taste the gourmet dishes made of the grouper.
Content of Photography on Island landscape: the content receives the photograph taken by visitors for natural landscape, cultural relics, villages and cutting laver. The photographs aim at showcasing the beauty of the island and the simple life of fishmen. The content heighten the awareness of the tourism image of Xia'an.
Besides the said activities, visitors may land Dadeng Island, the extra locale for the fest where visitors may tour the battlefield park and do shopping in duty-free park.