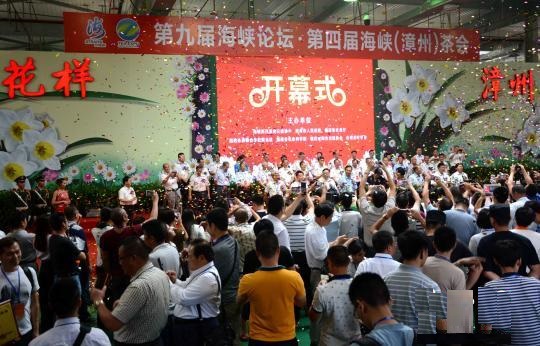 The 4th Cross-straits (Zhangzhou) Tea Fair was held last week at Southeast Flower Paradise of Zhangzhou City. On the theme of "Improving quality and effeciency,  Developing sustainably", the fair actively promoted tourism based on tea. Many events were held to attract visitors.
The fare included 7 exhibition zones: Zhangzhou Zone, Taiwan Zone, Inclusive Tea King Zone, New Tech and Industry Zone, Zhangzhou Tea Snack Zone, Tea Culture Tourism Zone and "One Belt and One Road" Zone. There are about 200 tea enterprise participants home and overseas, such as Fujian, Taiwan, Yunnan, Guizhou, Indonesia, Japan, Malaysia, Nepal, Singapore and Pakistan. It showcased tea research, planting, picking, processing, sale and marketing. At Tea Culture Tourism Zone, it highlighted the ecological tea garden building and integration of tea and tourism. Visitors may watch tea performances and learnt about tourism routes of tea garden. 
Tea King Contest appraised the tea products from companies of 10 provinces, and 9 tea kings, 24 gold medals and 36 choice tea medals were awarded.