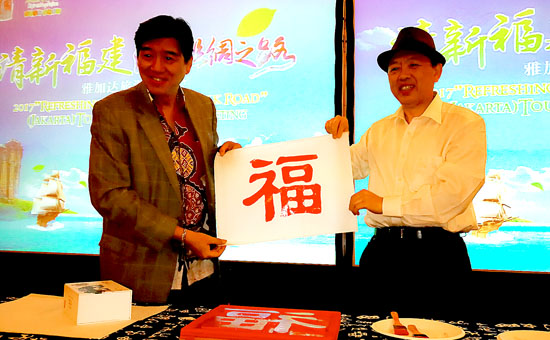 In Indonesia, The brand of "Refreshing Fujian" was promoted in the end of April by the promotion group, which is led by Mr. Zheng Weirong, the deputy director of Fujian Tourism Administration, comprising the members from Dongshan Tourism Bureau, Pingtang Tourism Bureau and Fujian C&D Tourism Group.
The promotion was held in Djakarta City, the capital of Indonesia, participated in by Chinese Embassy, Djakarta Tourism Association, Djakarta Ticket Sale Association and Indonesia-China Commerce Chamber , Xiamen Air, Garuda Indonesia and media.
The promotion had good results -- deepening the cooperation and exchange between Fujian and Indonesia and heightening the awareness of "Refreshing Fujian".
By PPT and video, the promotion centered on the theme of "one cup of tea, one Tulou Building and one Maritime Silk Road" and showcased the special charm of the brand and the vivid images of Fujian.
As 60% more Indonesian Chinese originated from Fujian, beautiful sceneries of Fujian invite them. By this promotion, they would have more impression and awareness of Fujian.
Mr. Zheng Weirong said that Indonesia was an important targeted market of Fujian tourism; Fujian and Indonesia would intensify cooperation for the great potential market. He wished both parties could increase friendship, exchange and cooperation.