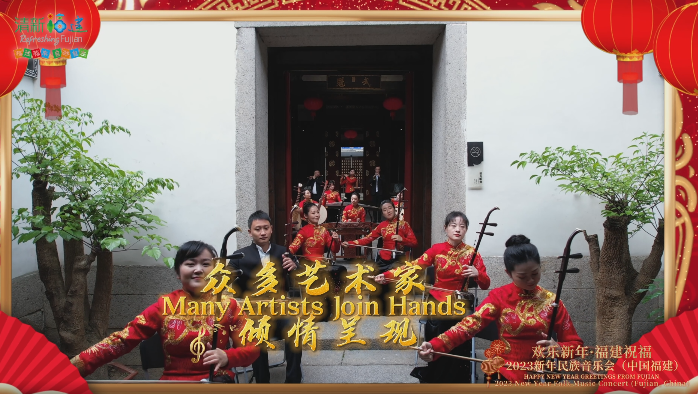 The 2023 New Year Folk Music Concert (Fujian, China) was streamed on the eve of the New Year and sponsored by Fujian Provincial Department of Culture and Tourism. Mr. Xiao Changpei, a deputy director of the department, extended New Year's greeting and wishes to foreign friends and overseas Chinese around the world in the streamed video. He said that Fujian is a blessing, beautiful, cultural, charming and promising land, and Fujian offered a musical feast, in which, it was expected to let audiences around the globe enjoy Fujian's folk music.
The concert for celebration of the New Year features national orchestral music, classic repertoire and Fujian's element. It was embellished in high-tech way.
The concert boasted elite cast, such as Mr. Liu Sha, a famous conductor of China National Traditional Orchestrea, Mr. Mo Hualun, a famous overseas Chinese singer, and Mr. Wang Qingshuan, a National Class-A Actor. The national-style repertoire were played, including "Jasmine" and "Blooming Flowers and Full Moon". Fujian's element music were "Tulou Building" and "Three Lanes and Seven Alleys". These performances displayed Fujian's charms and image of "Refreshing Fujian".
The concert video would be played in 100 more Fujian's twin cities (states) and at International Exchange Centers of Fujian Culture and overseas cooperative promotion centers for Fujian tourism. It would be streamed on many media websites and APPs.