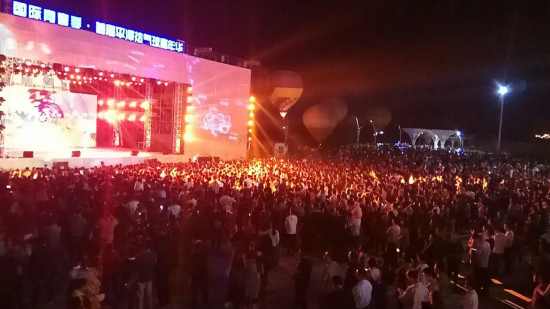 Last week, at Longwangtou Seaside Resort, International Youth · The First Hot-air Balloon Carnival kicked off grandly with 5 hot-air balloons erupting fire. At the spot of the carnival, the light shine sky and music is exciting. Spectators enjoy this activity.
The stage of the carnival, set up in steel structure, presented oceanic style by spotlight and projecting light. Following the light show, Ms. Zhou Jun, the woman champion of Asia-pacific pole dance, performed. Beside the dance, Kongfu, acrobat and Luminous Dragon Dance were watched. The highlight performance was local shield dance that is peculiar to Pingtang County. The dance originated from a military practice for repelling Japanese invaders in the Ming Dynasty.
As the carnival date was on the holiday of Labor Day, many tourists visited the spots.
The carnival enriched the tourism of Pingtang and made it special. This is an attempt to do new marketing for local tourism.