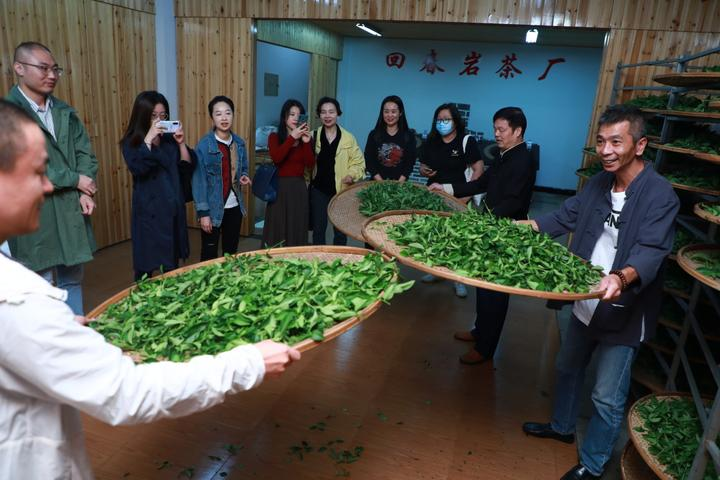 Sponsored by Fujian Provincial Department of Culture and Tourism and organized by Chinese Headline, "Tour of Tea Town and Lanes and Alleys", a cultural experience event, was held last week. Representatives of 12 overseas Chinese media from USA, UK, France and Italy took part in the tour event

, as well as representatives of some domestic media did. They toured Wuyi Mountain which boasts bio-diversity, savored Wuyi's Rock Tea, explored Xiamei Village.
The tour group visited Mr. Zhang Huichun's tea factory which produces Wuyi Rock Tea. The Rock Tea is one of attractions of Wuyi Mountain. Tea trees grow in ravines and on peak slopes. With its flavor, the tea tastes mellow and smells aroma. Mr. Zhang introduced the making craft of Wuyi Rock Tea. Members of the group experienced the making of the tea. They learned the right way of drinking tea -- tongue tip touching upper palate and sipping. The culture and making craft of rock tea impressed the members so much.
Afterwards, the tour group explored the Xiamei Village that is rich in tea history. As an important trade center of tea during the 17th-19th century, Xiamei was the starting point of the Tea Road and its tea was sold far in Russia. In the village, the 30 more ancient buildings with opulent and elegant decoration are the evidence of its past glory. Among the buildings, Zou's Clan Temple and residence are eye-catching. The landscape of the residence's garden is in ancient style. Its Zhen Guo Temple is a blend of Buddhism, Taoism and Confucianism.