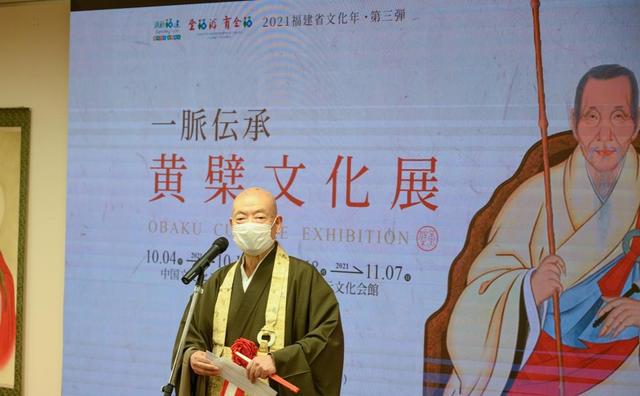 Huang Bo Sect Culture Exhibition (Obaku Culture Exhibition), one of 2021 Fujian Cultural Events, was held grandly on 4th October at China Cultural Center in Tokoyo, Japan. Huang Bo sect, a Fujian-originating branch of the Chan sect, was missionized to Japan in the 17th century. About 60 related persons attended opening ceremony of the exhibition, such as Mr. Luo Yunquan, the director of China Cultural Center, Mr. Kondou and Mr. Araki, the chiefs of Wangfu Temple and the sect, Mr. Matsuzaka, the director of Japan Huang Bo Culture Association, Mr. Liu Lishen, the director of International Exchange Center of Fujian Culture (China) in Japan, who addressed the ceremony.
Sponsored by Fujian Provincial Department of Culture and Tourism and China Cultural Center in Tokoyo and supported by temples related to Huang Bo sect, the exhibition included photos and relics, which displayed Master Yiyuan missionizing and the sect's far-reaching influence in Japan.
Ms. Shi Yongqing, the Cultural Counselor of Chinese Embassy in Japan, delivered her online celebration speech.
At the exhibition, side events were held -- tea ceremony, lecture on ancient musical instrument and its performance and show of Huang Bo Painting technique.