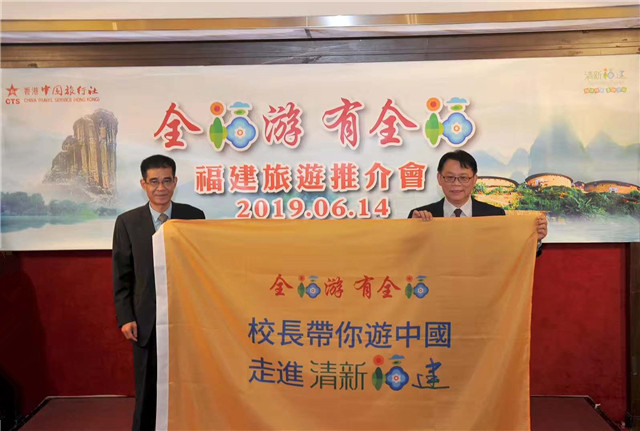 Led by Mr. Wu Liguan, the Deputy Director of Fujian Provincial Department of Culture and Tourism, 16-person Fujian delegation participated 2 weeks ago in the International Travel Expo (Hong Kong), promoting "Refreshing Fujian" and "Tour throughout Fujian, Taking in Blessings" and displaying Fujian's peculiar tourism resource and culture. By playing the video of "Tour in Fujian, Taking in Blessings", it showcased tour for exploring Fujian and leisure, Fujian's tea and tea cup, and mountain with Danxia landform, highlighting 4 world heritages sites, 2 geoparks, 9 tour elements(Tea, Tulou, Trees, Temple, Tie of Maritime Silk Road, Taiwan link, Therma and Multi-culture).
Fujian's pavilion teemed with crowds who inquired and took photograph. It delivered 20000 more brochures on Fujian tourism and 1000 tourism souvenirs.
In the expo, the delegation exchanged with delegations of other provinces and other countries. Owing to Fujian's close link to Hong Kong (1.2 million Fujianeses live in Hong Kong and 5 hours by high-speed train), Fujian is Hong Kong tourist's important destination, and vice versa.