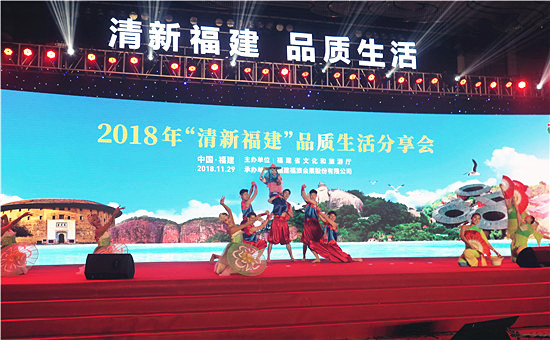 "Refreshing Fujian" Quality Life Share, the first event of Fujian Tourism Expo 2018, was held at Empark Hotel in Fuzhou. In its opening ceremony, Mr. Wu Xiande, the Director General of Fujian Provincial Department of Culture and Tourism, delivered his speech. He said that Fujian government attached much importance to tourism plus culture and welcomed tourists to "Refreshing Fujian".
In the event, songs and dances for Fujian was performed; puppet show was played; video of Fujian tourist attractions was played.
Promotion of Fujian tourism played key role in the event: it introduced 4 world heritages sites, 2 geoparks, 9 tour elements (Tea, Tulou, Trees, Temple, Tie of Maritime Silk Road, Taiwan link, Therma and Multi-culture) .
"Favorite Fujian Tour", a online tourism platform (website and APP), was launched. It tooks 2 years for Fujian Tourism Development Group to develop.
The share usered in the grand event -- Fujian Tourism Expo 2018.