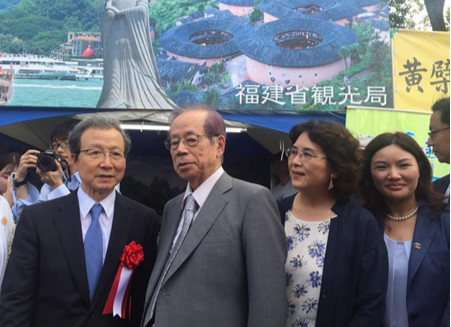 Oversea Promotion Center (Japan) for Refreshing Fujian shone on 8th September at 2017 China Festival held in Japan. In the wake of opening ceremony for the center's pavilion, the former Japanese Prime Minister, Mr. Yasuo Fukuda, and Chinese Ambassador in Japan, Mr. Cheng Yonghua, visited the pavilion of the center to interestedly view Fujian's specialties, such as Oolong tea, oil-paper umbrella, cattle-horn comb and bodiless lacquerware, and they took group photo with the staffs of the center.
The director of the center introduced Refreshing Fujian to Mr. Yasuo and Mr. Cheng: its major attractions, such as Tulou, Gulangyu, Wuyi Mount, Meizhou Island, Dajin Lake and Three Lanes and Seven Alleys, were worth Japanese visiting; Fujian's diverse tea were favorite of Japanese. Fujian was the one of Chinese provinces that has close link with Japan.
The promotion was the second one succeeding to last year in the festival. In the promotion, the center displayed Fujian's scenery and introduced tourism products, delicacies and tea. This event aimed to publicize Fujian's culture and tourism to draw more Japanese tourists. In 2017, Japanese visits to Fujian reached up to 429.2 thousands, 25.1% more than that in 2016, ranking the second among foreign visits.