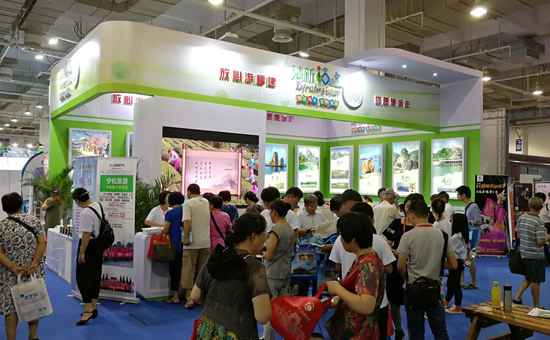 "Refreshing Fujian" was promoted in Septmeber in 2018 Ningbo International Travel Exposition. Fujian Provincial Tourism Development Commission organized to participate in the exposition 40 more representatives from travel agents, administration of tourist attractions, hotel and tourism gift companies and performers of intangible cultural heritage.
At Ningbo International Convention and Exhibition Center, Fujian Pavilion was set on the theme of "Care-free Touring Fujian". It displayed Fujian's tourism resources: 4 world heritages sites, 2 geoparks, 9 tour elements(Tea, Tulou, Trees, Temple, Tie of Maritime Silk Road, Taiwan link, Therma and Multi-culture) and 10 stories of Fujian tourism. Its highlight was cast on Pingtan, the international tourism island. The display captivated crowds of visitors. The performances of Fujian's intangible cultural heritage drew many people to take "Blessing" printed paper by movable-type printing.
During the exposition period, the pavilion delivered 6000 more brochures of "Refreshing Fujian" and relative booklet and gifts.