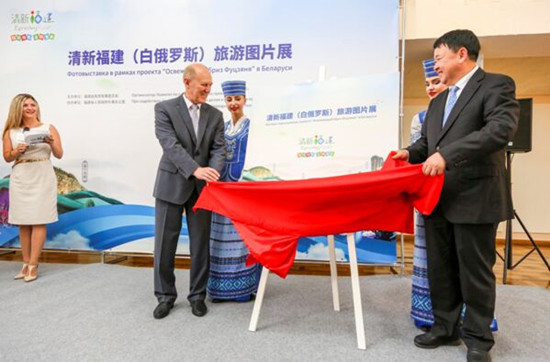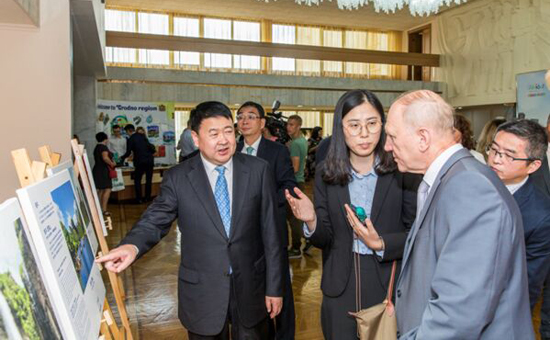 On 6th August, the Photo Show of Fujian Tourism was held at the City Hall of Grodno City, Republic of Belarus. Participants in the show includes Fujian Delegation, officials from Grodno State Government, tourism companies from Fujian and Belarus, and media reporters. Mr. Liang Jianyong,  Mr. Liang Jianyong, the member of Standing Committee of CPC Fujian Provincial Committe, the Secretary General of CPC Fujian Provincial Committee, and the Director of Publicity Department of the CPC Fujian Provincial Committee,  and Mr. Vladimir, the Chairman of Executive Committee of Grodno, inaugurated the show. Afterwards Mr. Liang interpreted the photos one by one to the chairman. 
The show, sponsored by Fujian Provincial Tourism Development Commission, centered on 7 topics of Fujian: allure of the Maritime Silk Road, Refreshing Environment, Treasured Sites of  World Heritages, Beauteous Sea Scenery, Quaint Customs, Diverse Cultures and Particular Charm of Fujian and Taiwan. 
Addressing the show, Mr. Wu Xiande, the Director of the commission, said that it was the first time to promote Fujian tourism in Belarus, which was an active response to "Tourist Year between China and Belarus" and an good opportunity to learn about each other and propel cooperation. 
Paper cutting from Zhangpu County shone at the show -- attracting Belarus participants and being praised by them. Song of Refreshing Fujian offer them vocal beauty.