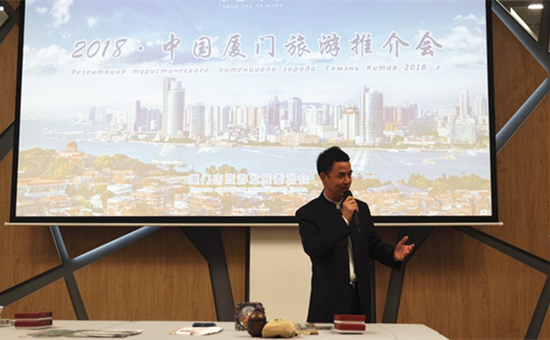 To develop international market, "Xiamen You like," the promotion of Xiamen Tourism, last week was done in Kiev, Ukraine. Tourism-relative organizations of Ukraine, such as travel agents, tourism departments of Ukraine Government and local tourism association, participated in the promotion. Mr. Chen Guilin, the Deputy Director of Xiamen Municipal Tourism and Development Commission, introduced Xiamen, beginning with his encountering a Ukraine young fellow who shared the same flight with him. The young fellow had lived and worked in Xiamen for 12 years and what in Xiamen drawing him was the sea, the beach, sunlight, hot spring and traditional Chinese medicine therapy. To Mr. Chen's surprise and sympathy, the young fellow took his parents each year to Xiamen for holiday. They tour Gulangyu Isle, Tulou, Wuyi Mount and savouring tea and delicious snacks. 
The promotion delegation met Ms. Anne, the senator who take charge of tourism and holiday, and discussed their tourism cooperation, direct flight between the cities and visa. 
The promotion gave Ukraine people an good impression of Xiamen: drinking tea in early morning, walking alone Circle-island Road, basking in golden sunshine, watching wave rising and ebbing, savouring seafood, experiencing fishery life, taking hot spring bath before sleep.